Dynaudio Xeo 2 Active Speakers
Dynaudio Xeo 2 Wireless Bookshelf Loudspeakers
XEO. THE WIRELESS REVOLUTION.
Xeo minimizes your system to the essentials: the audio source and the speakers.This is the world's first high-end wireless speaker system, making an amplifier and speaker cables redundant. It combines wireless music playback with the legendary Dynaudio sound quality.
Xeo can be used with any device that plays music: computer, mobile phone, personal player, video system, docking station, network player, CD player, streaming client, TV, Hi-Fi audio system, anything. The music from your computer sounds great. Videos from the internet sound great. Even your smartphone sounds great. Finally.
Because the compact Xeo 4 and the floor-standing Xeo 6 feature the renowned Dynaudio drivers mated to sophisticated integrated digital amplifiers, wireless audio transmission and advanced digital sound processing. Audio critics everywhere have been in awe of what Dynaudio has achieved with the Xeo loudspeakers. Now imagine that within a complete wireless audio system.
"Balanced, revealing and musical – a rare example of wireless hi-fi speakers that don't compromise on quality." 
WHAT Hi-Fi?
XEO 2
With wireless connectivity, the new Xeo 2 means there's never been an easier way to enjoy music as it should be. What's more, we have made cables, amps, and preamps obsolete – without compromising the high-end sound quality.
Packing high fidelity tones into a compact package, it is not only the size and design of xeo 2 that makes this the most convenient high-end sound system around but also ease of use. Following on from its larger siblings' simple plug and play functionality, Xeo 2 takes this one step further with simple Bluetooth connectivity. Moreover, Xeo 2 also features a wired digital input capable of lossless, high-resolution playback.
You don't need a Xeo hub or Dynaudio Connect to enjoy the Xeo 2. Just connect your source to the Master speaker via optical, analog or bluetooth, and the signal is streamed wirelessly directly to the Slave speaker. However the Xeo 2 can also be used together with the Xeo Hub or Dynaudio Connect, for example in a multiform setup, or in situation where the source is not close to one of the speakers.
The Xeo 2 delivers a scale of sound reproduction that completely contradicts its compact cabinet. The speakers feature technologies such as active DSP filters; true time coherent phase linear FIR filters; optimised sound power; and Adaptive Bass Technologies, which optimise bass output against amplifier load. This allows the Xeo 2 to extend to lower frequencies than what you would expect from a speaker its size.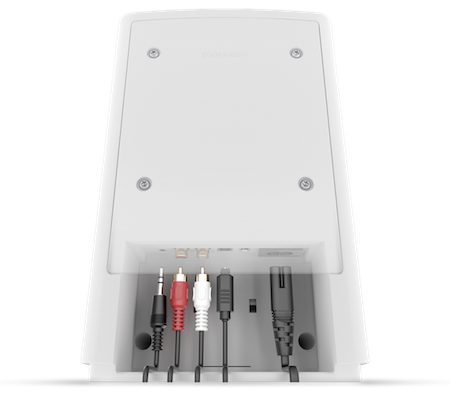 The Xeo 2 is created in a typically clean and understated Danish design, and the latest sibling in the Xeo range promises to enhance any home it is placed in, with it being available in satin white and satin black finish.
The cabinet comes in the form of a composite moulded construction and features an expertly crafted aluminium baffle, which provides extra rigidity to the cabinet.
Lastly, the Xeo 2 comes with a remote control that allows you to choose between different inputs, raise or lower the volume, power the Xeo 2 on and off, and mute the speakers.